Welcome to the Highland Inn Renovation Project!
Help Save Highland's Grande Dame
If you've driven Route 250–Main Street–through Monterey, then you've seen her. Her Eastlake porches with their ornate balusters and posts are a dressy reminder of her status as the county's architectural Grande Dame. Her silvery tin roof gleams in the sunlight, glows in the moonlight. Along her third-story roofline, twin triangular dormers each house a window, this pair of eyes serving as a silent sentinel, watching over the town now for more than a century.
And, with your help, for more than a century yet to come.
While the Inn's exterior is gorgeous, classic, iconic, her real beauty lies within. In countless family reunions…special-occasion meals in the dining room…quiet moments in the parlor…lively conversations in the tavern…comfortable beds in cozy rooms, at the end of eventful days in this beautiful corner of the Commonwealth.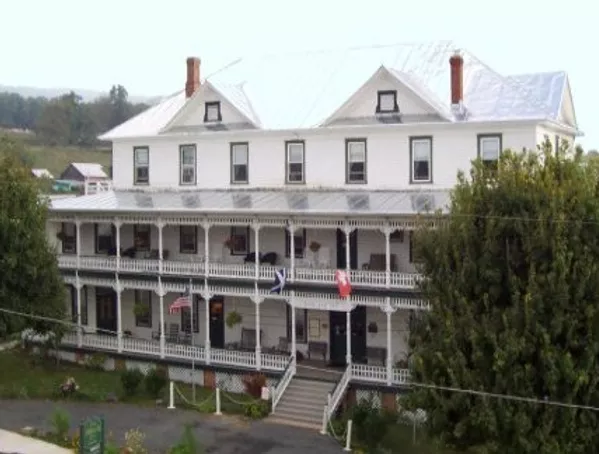 In a county whose natural beauty is her calling card, and whose economic well-being therefore is tethered to tourism, this Grande Dame's status as the oldest, largest and most historic lodging establishment in Highland makes her continued operation more than merely important–it makes it essential.
The Inn is a magnet for history buffs, bikers, birders, fishers and cavers. It's a community gathering place. A barometer of Monterey's and Highland's economic vitality. It's our signature symbol, both of a simpler time, and of a simpler place that still exists, here, today. Within a half-day's drive or less of Richmond, Roanoke, Norfolk, NOVA, DC.
Please help The Blue Grass Resource Center as we restore the Highland Inn both to her former glory, and to her future role as a living memory-maker for the 21st century, for all those who love this special town, this special county, this special place.
Thank you!
Renovations Are Underway!
​
Lodging and Dining at the Inn Will Be Available When the Inn Reopens!
For more information about how to contribute to the Highland Inn Restoration, please contact Betty Mitchell at Innrenovation@htcnet.org.